Leonardo Ai Art Generator empowers creators of all levels to revolutionize their visual asset creation process. AI-driven tools, enhance originality, simplifies content creation, and fuel creativity. From Image Generation to 3D Texture Innovation and a range of finely-tuned models, Leonardo Ai offers a comprehensive toolkit to unlock your creative potential. Alchemy, their latest pipeline tool, seamlessly transforms creative inputs into stunning visual outputs, opening new realms of artistic possibilities.
Introduction
Are you tired of spending hours creating visual assets for your projects? Look no further than Leonardo Ai Art Generator. With Leonardo Ai, you can create production-quality visual assets with unprecedented quality, speed, and style consistency. Whether you're a beginner or a professional, Leonardo Ai has the tools you need to cultivate originality, simplify mastery, and turbocharge innovation. In this article, we'll explore the features and benefits of Leonardo Ai and how it can revolutionize your creative process.
Originality with Leonardo Ai Art Generator
Your imagination is the key to creating unique and distinctive art. With Leonardo Ai, you have the power to generate art using pre-trained AI models or train your own. Whether you're a digital artist, graphic designer, or marketer, Leonardo Ai Art Generator has the tools you need to bring your ideas to life. By combining your creativity with the cutting-edge technology of Leonardo Ai, you can create art that stands out from the crowd.
The art Simplified with Leonardo Ai
The process of producing excellent content should not be difficult and time-consuming. It is simple to understand and enjoyable to master thanks to Leonardo Ai Art Generator. Leonardo Ai's user-friendly interface and powerful editing tools provide you with the ability to produce high-quality content properly and efficiently. Leonardo Ai offers a range of options that may be customized to your preferences, whether you are a novice or an expert artist. A simplified and effective creative process will replace boring and repetitive tasks.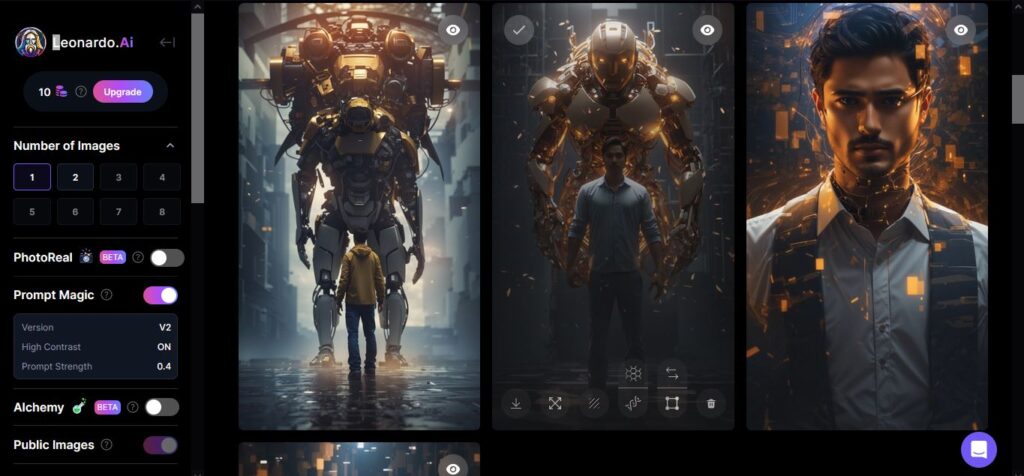 Boost Creativity with Leonardo AI Art Generator
The basis of creativity is innovation. You can accelerate your ideation process using Leonardo Ai, enabling you to conceptualize, iterate, and experiment at the speed of light. Leonardo Ai gives you the ability to expand your creative horizons and push the limits of your creativity thanks to its potent AI models and tools. Leonardo Ai Art Generator is your go-to innovation partner whether you are working on character design, game assets, concept art, graphic design, fashion, marketing, advertising, product photography, architecture, interior design, or any other creative activity.
Toolkit of Leonardo AI Art Generator: Boosting Your Creativity
With Leonardo Ai, your creative potential is unlocked through a powerful toolkit. Let us examine some of its key features in more detail:
Extraordinary when creating images.
You can increase the scope of your imagination by using the Image Generation tool from Leonardo Ai Art Generator. You may redefine the impossibility and make your concepts come to life with a variety of settings and options. Leonardo Ai combines simplicity and power in a seamless package for both novices and experts. You have total control over every pixel of your creations because of its simple controls and adaptable features.
AI Canvas: Each Pixel Is Perfect
In Leonardo Ai, the AI Canvas combines powerful editing features with an engaging creative experience. It is more than simply a tool; it is a place where you may express your creativity and develop into the real alchemist of your works. You may remove diversion, change size, and fine-tune each element of your designs using AI Canvas. It is the ideal setting for artists that pursue excellence.
Developing 3D Texture Innovations through 3D Texture Generation
The 3D Texture Generation tool from Leonardo Ai will give your 3D assets a new life. Leonardo Ai will create textures using contextual intelligence after you upload your OBJ file. The customized enriched files will enable you to speed up your design process and elevate your projects to new heights.
Expand Your Creative Horizons with Fine-tuned Models
For various artistic needs and styles, Leonardo Ai Art Generator offers a large selection of finely crafted models. Let us examine a few of the most notable models:
DreamShaper v7: A versatile model that excels in a range of different styles.
SDXL 0.9: The latest Stable Diffusion model, currently in Beta.
3D Animation Style: Great for creating complex 3D film vibes with rich colours.
Absolute Reality v1.6: A photorealistic style model that's great for all sorts of photorealism.
Model Leonardo Diffusion has amazing contrast and shading, making him ideal for both photos and artistic styles.
DreamShaper v6: An incredibly versatile model that excels at both people and environments.
Deliberate 1.1: A powerful model that's great for both photorealism and artistic creations.
Vintage Style Photography: This model can generate a broad range of imagery with a vintage style, reminiscent of film photography.
DreamShaper 3.2: Great for a range of portrait styles and artistic backgrounds.
RPG 4.0: Create unique cute spirit characters, from whimsical fairy-like beings to mythical creatures.
Luna: For the best results, keep the Guidance Scale between 3-11.
Paper art style: Unlock the charm of paper art with this model.
Illustration V2: Dive into the world of artistic and illustrative images with different styles.
Spirit Creatures: Create unique and adorable fairy-like and mythical creatures.
Character Portraits: Create awesome RPG characters in a consistent style.
Isometric Fantasy: Build isometric fantasy environments with ease.
Isometric Scifi Buildings: Create scifi buildings with a touch of isometric view.
Cute Animal Characters: Design lovable and playful animal characters.
Shields: Design impressively varied and detailed shield designs.
Magic Items: Create a wide range of magical items, from weapons to books.
Let us look at the results we received after giving some prompts during the testing of the Leonardo Ai Art Generator.
Create a scene from a historical period, such as a medieval castle under siege or an ancient Egyptian marketplace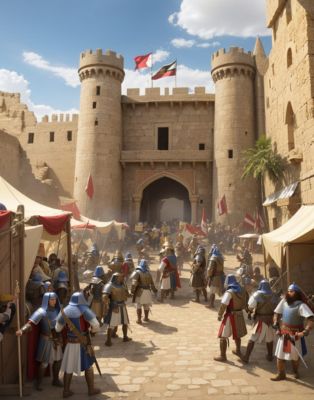 Generate an abstract representation of a particular emotion, such as 'loneliness' or 'serenity.
Generate a futuristic cityscape at sunset with towering skyscrapers and flying cars.
Picture Perfect Creations with Alchemy
Alchemy, the newest pipeline tool from Leonardo Ai Art Generator, will revolutionize the way you create images. Alchemy uses the bewitching power of AI to transform your creative inputs into beautiful visual outputs, serving as your own personal digital Merlin. The procedure is seamless, and the outcomes are quite spectacular. You may reach a completely new level of creativity with Alchemy and make masterpieces that are picture-perfect.
Frequently Asked Questions(FAQ'S)
 What is Leonardo Ai Art Generator, and how can it benefit me as a creative professional?

Leonardo Ai is a cutting-edge AI-powered platform designed to simplify and enhance the creation of visual assets. It offers a range of tools and features to help both beginners and professionals streamline their creative processes, unlock their creativity, and produce high-quality visuals efficiently.
 How does Leonardo Ai promote originality in creative work?
Leonardo Ai empowers users to generate art using pre-trained AI models or train their own. This means that you can combine your creativity with AI technology to produce unique and distinctive art that stands out from the crowd.
How does the 3D Texture Generation tool work in Leonardo Ai?
The 3D Texture Generation tool in Leonardo Ai allows users to create textures for their 3D assets by utilizing contextual intelligence. Users can upload their OBJ files, and Leonardo Ai will generate customized textures, speeding up the design process and enhancing project quality.
What are some standout AI models available in Leonardo Ai, and how can they be used?
Leonardo Ai offers a wide selection of finely crafted AI models for various artistic styles, including photorealism, illustration, character design, and more. Users can choose the model that best suits their project and creative goals to achieve stunning results.